Our work touches the lives of thousands of people, from our patients to children from many schools and nursery schools, in our community, which we have been supporting and helping throughout the years. As a dental practice we are passionate about spreading the message about good oral hygiene and diet from an early start. We believe that, by working tirelessly in the community educating children and their families from lower socioeconomic background, we can make a difference. We can help transform the lives of many people if we reach out to future generations and reinforce the importance of healthy living. We believe that good health starts with good oral health as everything we eat and drink affects our teeth before they reach into our bodies.
Throughout our 20 years of service in Fulham, we have been in communication with several schools and nurseries inviting them to visit us and vice versa to hold seminars and talks promoting a good healthy diet and good oral hygiene. We have been involved in many initiatives through, NHS England and other health promoters to help educate parents and staff involved in children's daily lives.
As one of the largest NHS Dental practices in London, we have a responsibility towards our community and beyond. We decided to give more than the odd day here and there and partner with a charity of our choice, working for something very close to our heart. Lucky as we were, one of our dentists, Dr Rupert Monkhouse, had been involved in a brilliant charity up in Hull, Teeth Team. They go into primary schools to offer all children a check up and fluoride varnish (providing consent is in place). They identify any child with a need to see a dentist and refer them to an NHS dentist. The charity was in need of partners in the south and in need of more volunteers, both dentists and nurses. We are delighted to be the hub in London for Teeth team and help this wonderful charity spread awareness in our local community.
Usually between 4 months and 9 months. This will vary depending on how complex the treatment plan is for each individual and also the results the patient is looking for.
You can have a temporary denture or bridge made whilst undergoing the treatment. Once the implant/s has been placed you will continue to wear your denture. In some cases we can fit an immediate temporary bridge/ crown for cosmetic reasons.
Dental implants have a success rate between 97% and 99%, this means that roughly 1 in 50 doesn't fuse to the bone. Smoking can affect dental implants fusing to the bone and healing up as predictably, the success rate for people who smoke goes down to 80%
Unfortunately, not everyone is suitable for having implants; Dr Manhem, our surgeon, would need to assess the amount of bone available to place an implant. To accurately measure the amount of available bone, we would use radiographs or a 3D scanner which allows us to measure bone in all dimensions.
No, you won't feel anything painful at all, you may feel some vibrations. You will be numbed up whilst having the treatment. We will put the right amount of anaesthetic in the right place so you won't feel anything at all that will concern you.
They have been around for 30-40 years, and most implants placed that long ago are still there now. There is no exact amount of time an implant will last for each individual providing your look after it as your own teeth.
This would be best to discuss with Dr Manhem as every implant case is different.
To see if you are suitable, you would need a consultation with Dr Manhem. It may be possible to give you a full denture fixed on four implants. This treatment is called All-on-4, you have four implants placed in your jaw and have a full bridge/ denture screwed on to them. This option rids you of removable teeth, giving you more comfort when chewing and more confidence when talking.
If you are not happy with your dentures and are worried about the cost of implants to replace all of your teeth, you may be suitable for denture stabilisation. This is where we attach a denture onto some dental implants. The implants hold the denture in place allowing you to eat more food and they prevent your denture from moving as much throughout the day. Book an appointment to discuss this further.
Visit to St Augustine's primary school in Hammersmith
On the 13th March we visited St Augustine's primary school in Hammersmith together with Teeth Team.
We managed to see around 140 children between the age of 4-11 years, we carried out dental assessments and applied fluoride varnish.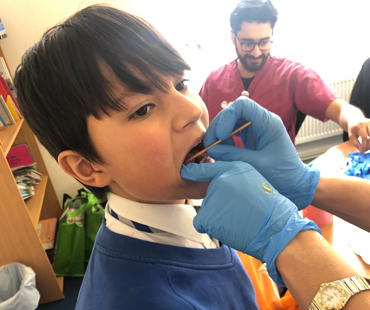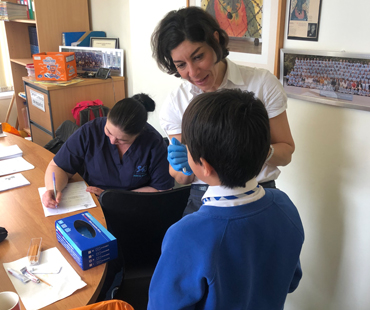 Environmental Certification at NHS Dentist
As a practice, we have teamed up with First Mile to recycle more and send nothing to landfill while reducing our carbon impact and making the practice more green.
We are proud to have received our Silver certification! Check out our stats below for a breakdown of what we've achieved together.