September 2022 Newsletter
Welcome to our September Newsletter
Thank you so much for taking your time to read this newsletter, particularly as we completely understand the peculiar demands of September. It's the month that divides minds. On the one hand, we want to embrace and look forward to the festivities coming our way- and yet, at the same time we continue to hold on to each ray of sun, its warmth and generally everything to do with summer.
But whichever way we are pulled today, even we know there is change to come. Our job at NHS Dentist is to help you make that change in a holistic and healthy way, remember, your overall health starts with your oral health. This month we will focus our attention to gum health.
What is gum disease?
Your gums are like cushions for your teeth; they surround the tooth from its crown to its root in the jaw and help to support a healthy mouth. Looking after your gums is just as important as looking after your teeth, and without routine cleaning gum disease can occur.
These are the stages of gum disease:
Red and swollen gums that bleed when you brush them are a sign of a type of gum disease, gingivitis.
When gingivitis is left untreated it can develop further into a type of infection known as periodontitis, which affects the entire area surrounding the tooth, causing discomfort and difficulty when eating.
Eventually this kind of infection can lead to tooth loss and may require invasive procedures to replace the missing tooth.
Fortunately, this can be avoided by attending regular hygiene check-ups at the practice and maintaining a good daily hygiene routine. Brushing between the teeth, flossing and replacing your toothbrush every three months will also benefit your gum health.
But what if you have gum disease?
After your initial diagnosis, you will receive treatment provided by your general dentist, however, some cases will not respond to this treatment and will need further treatment by specialist services, and this will require a referral out of house.
We appreciate there's a delay in, and a decreased rate of acceptance by specialists on the NHS. We also understand the cost implication of private specialist treatment. Therefore, we have tailor made a programme whereby our Dentist, Dr Afra Godarzi- Mofrad, uses her acquired skills from her ongoing post- graduate course, to treat patients with gum disease. This tailor-made programme is designed to give the patient the attention and time needed in the surgery, she uses the latest technology as her aid to achieve best results.
If you have any concerns about your teeth or gums, please do not hesitate to contact your dentist for your next dental health examination
A new service with Dr Afra
We are delighted to share with you a new service provided by Dr Afra Godarzi- Mofrad. Dr Afra embarked on a three-year Master of Science in Periodontal disease (gum disease) programme at the renowned Eastman Dental Hospital last year. She has successfully completed her first year with flying colours.
New recruits
We are pleased our continuous recruitment has been fruitful, we have recently recruited two trainee dental nurses, two receptionists, one hygienist and three new dentists. Please welcome our new trainee dental nurses Katerinne & Nadia, our new receptionists Jorge & Tylah, our new hygienist Kajol and our new dentists, Dr Marta, Dr Dave and Dr Ellen to our NHS Dentist family, they are a great addition to our Team.
Our new receptionists Jorge & Tylah
Our new trainee nurses Katherinne & Katia
Our new dentists Marta & Dave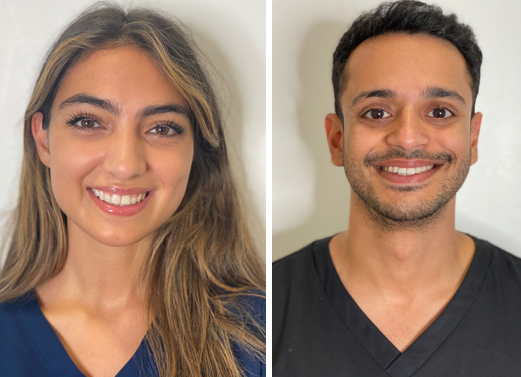 New hygienist Kajol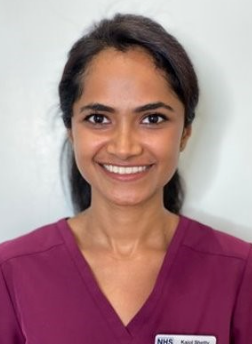 Implant open day
Finally, we would like to invite you to our Implant Open Day taking place on Saturday 26th November. If you have always wanted to know if you could replace a missing tooth with an implant, this is your opportunity to come along for a free consultation with Dr Carl Manhem.
Hurry, we have limited appointments, they will be allocated on first come first served basis. To book your appointment, please e-mail our implant nurse Usha, usha.koju@nhsdentist.com
We hope you enjoyed this newsletter,
NHS Dentist Team
---